The official shortlist for the European Healthcare Design Awards 2018 has been announced, following a hard-fought competition and intensive judging process.
The awards, which celebrate and recognise professional excellence in the design of healthcare environments both in Europe and around the world, caught the interest of architects, healthcare leaders, academic researchers and innovative solutions providers from all over the globe. The extremely high standard of entries received meant the judges had an unenviable task in whittling them down to a final shortlist.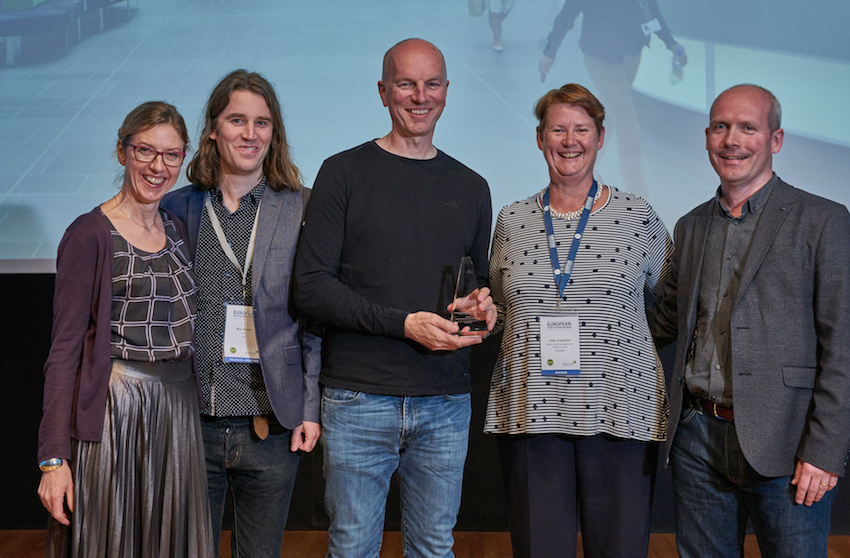 Comprising organisations and project teams in the running for ten awards across primary, community, secondary and tertiary levels of international healthcare provision and delivery, the shortlist is as follows:
Healthcare Design (Over 20,000 sqm)
Joseph and Rosalie Segal Family Health Centre, Parkin Architects, Canada
Omagh Hospital and Primary Care Complex, Todd Architects, UK
University of Iowa Stead Family Children's Hospital, CBRE | Heery, USA
Lead judge: Marte Lauvsnes, Sykehusbygg, Norway
Panel judges: Tricia Down, Southmead Hospital, UK; Ganesh Suntharalingam, Intensive Care Society, UK
Healthcare Design (Under 20,000 sqm)
Kachumbala Health Centre 3, Maternity Unit, HKS Architects, Uganda
St Andrew's Hospital, Eastern Clinical Development, Wiltshire + Swain Architects, Australia
Waterfall House, Birmingham Children's Hospital, BDP, UK
Lead judge: Liesbeth Van Heel, senior policy advisor, Erasmus University Medical Centre, Netherlands
Panel judges: Coen van den Wijngaart, Art & Build, Belgium; Hank Adams, HDR, USA
Mental Health Design
Clinic for Psychosomatic Medicine and Psychotherapy, Westerstede, Gerlach Schneider Partner Architekten (GSP), Germany
Mental Health Hospital in Vejle (Psykiatrisygehus I Vejle), Arkitema Architects, Denmark
Lead judge: Jonathan Erskine, European Health Property Network, UK
Panel judges: Alice Liang, Montgomery Sisam, Canada; Mungo Smith, MAAP, Australia
Interior Design and Arts
COACH – Centre for Overweight Adolescent and Children's Healthcare, Tinker Imagineers, Netherlands
Renovation of Radboud UMC Dentistry, Netherlands
University of Iowa Stead Family Children's Hospital, CBRE | Heery, USA
Lead judge: Alexandra Coulter, director, Arts & Health South West, UK
Panel judges: Vivienne Reiss, arts consultant, UK; Pam Bate, Hopkins Architects, UK
Future Healthcare Design
Children's Hospital Copenhagen (BørneRiget), Denmark
Commissioned by The Capital Region of Denmark, Copenhagen University Hospital (Rigshospitalet) and Ole Kirk's Foundation
Designed by 3XN Architects, Arkitema, Niras, Kristine Jensens Tegnestue, Rosan Bosch Studio
Desa Semesta, Semesta Farm, Magi Design Studio, Indonesia
The hospital, a living organism: towards a biophilic design approach for the Nantes Hospital, Art & Build, France
The National University for Oral Health, Singapore (NUCOHS), B+H Architects, Singapore
Lead judge: Cliff Harvey, director, Union of International Architects Public Health Group, Canada
Panel judges: Yvonne Lim, MoHH, Singapore; Hieronimus Nickl, Nickl & Partner, Germany
Design for Adaptation and Conversion
The Halo, Steffian Bradley Architects, UK
Lead judge: Visiting Professor Jim Chapman, Manchester School of Architecture, UK
Panel judges: Chris Shaw, Medical Architecture, UK; Jane McElroy, NBBJ, UK

Design Innovation for Quality Improvement
Carebnb: new concept for short-term light care in your own neighbourhood, de Jong Gortemaker Algra Architects and Engineers, Netherlands
High-Risk Pregnancy Toolkit, Philips Design, Netherlands
Lead judge: Jonathan West, Helen Hamlyn Centre for Design, Royal College of Art, UK
Panel judges: Christine Chadwick, GE Healthcare, Canada; Danny Gibson, MJ Medical, UK
Design for Health and Wellness
Kachumbala Health Centre 3, Maternity Unit, Uganda, HKS Architects, Uganda
Kalasatama Health and Wellbeing Center, Helin & Co Architects, Finland
Omagh Hospital and Primary Care Complex, Todd Architects, UK
Lead judge: Dr Liz Paslawsky, consultant advisor, SALUS Global Knowledge Exchange, Australia
Panel judges: Helina Kotilainen, architect, Finland; Jonathan Wilson, Stantec, UK

Health and Life Sciences Design
Cardiff University Brain Research Imaging Centre (CUBRIC), IBI Group, UK
Center for Stroke and Dementia Research (CSD), Nickl & Partner Architekten, Germany
The Francis Crick Institute, HOK and PLP Architects, UK
Lead judge: David Powell, development director, Alder Hey Children's Hospital, UK
Panel judges: Karin Imberdorf, Lead Consultants, Switzerland; Tye Farrow, Farrow Partnership Architects, Canada
Design Research
From open building to open room. Flexibility as a tool for innovation in future healthcare environments

Andrea Brambilla, PhD candidate; Marco Gola, Politecnico di Milano, Department of Architecture, Built Environment, Construction Engineering
Measuring the space planning efficiency of 21st century hospitals: a unique benchmarking study
Dr Kenneth D Fisher PhD, DSc (hc), MProjMan, Grad Dip Ed; BTech, Assoc. prof, Faculty of Architecture, Building & Planning, University of Melbourne
Systematic review of emerging models of cancer care: implications for the health industry

Dr Upali Nanda PhD, Assoc. AIA, EDAC, ACHE, Associate principal, director of research, HKS, USA; Bita Kash PhD, MBA, FACHE, Director, Centre for Health Organization Transformation; Assoc. prof, Texas A & M Health Science Center; Director, Center for Outcomes Research, Houston Methodist, USA
Agency in the paediatric hospital: architectural strategies to support independence and empowerment

Dr Rebecca McLaughlan PhD, Research fellow, Melbourne School of Design, University of Melbourne; Dr Stephanie Liddicoat-Ocampo PhD, Architectural researcher, University of Melbourne
Western Health HealthLinks: helping chronic and complex patients stay at home

A/Prof Craig Nelson, Head of unit, nephrology / medical director, HealthLinks, Western Health; Russell Harrison, CEO, Western Health; Jason Plant, Programme director, HealthLinks, Western Health; Dr Arlene Wake, Executive director, community integration, allied health and service planning, Western Health; Robert Rothnie, Director, service planning and development, Western Health
Lead judge: Dr John Zeisel, president, Hearthstone Alzheimer's Care, USA
Panel judge: Dr Göran Lindahl PhD, Chalmers, Sweden; Tampere University of Technology, Finland
The awards, which are organised by Architects for Health and SALUS Global Knowledge Exchange, will be presented at an illustrious ceremony during the final session of the European Healthcare Design 2018 Congress & Exhibition on 12 June. The awards make a significant contribution towards the development of knowledge and standards in the design of healthcare environments around the world.
The awards evaluation committee features international researchers, practitioners and policy advisors, who bring specialist multidisciplinary expertise to the specific categories they have been invited to judge.
The shortlist and winner of each award are determined by a category chair, supported by two other judges with proven expertise in their field. This robust evaluation methodology ensures a balanced and transparent decision-making process.