It's now 21 years since the first Maggie's centre opened in Edinburgh, and the charity is more relevant today than at any time in its history, according to its chief executive, Laura Lee.
Delivering the closing keynote session on day one of the European Healthcare Design Congress, Lee – who has been with the organisation since its inception and was one of the nurses who cared for its founder and inspiration, Maggie Keswick Jencks – described the architectural philosophy behind the Maggies' centres and some of the 'star' architects who have delivered facilities bearing the name.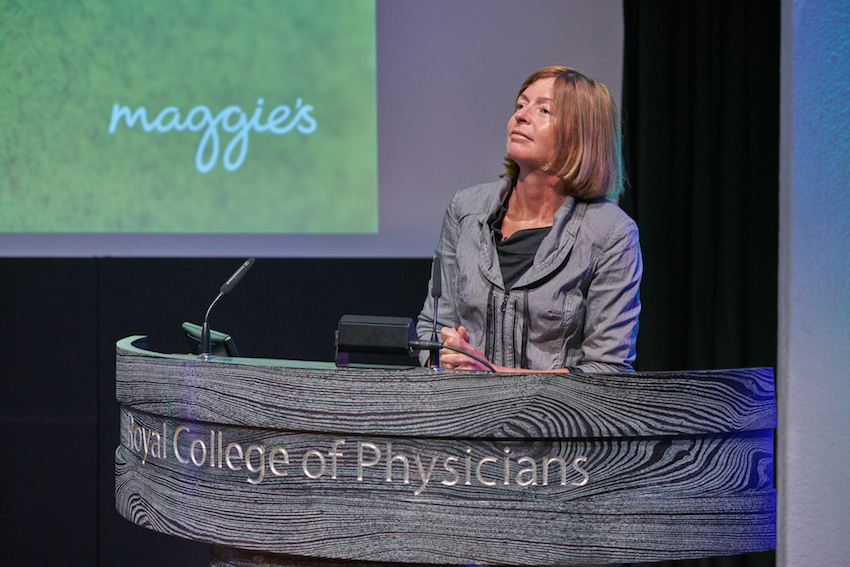 That first centre in Edinburgh was the birth of Maggie's idea to create a place as an emotional response to not lose the joy of living in the fear of dying. Identifying a derelict building on the hospital grounds adjacent to the cancer centre, she persuaded the hospital chief executive to release the land, and local architect Richard Murphy helped convert it into the facility that still stands today.
Said Lee: "Patients who came into the Maggies centre started telling me the things they were facing as part of their daily lives with their families, their worries and concerns, which they hadn't told me in my role as a clinical nurse specialist at the hospital.
"So at a really early stage, I realised we were building a feeling that, as soon as people walked through the door, we were creating a shift in how people would communicate. And we opened our doors for our people to provide psychological, emotional, practical and social support for people affected by cancer."
In keeping with this support, the architectural brief for a centre always begins with feeling and emotion, as opposed to the technical and functional elements of a building, explained Lee. The instruction is for no corridors, no places where there can be secrets, no signage, and no reception desks.
"We're very lucky that our briefing process, which is really about creating places of hope, is an open one and one based on feeling," said Lee. "In every case, Maggie's centres have been invited on to the hospital grounds, and we form a wonderful partnership where they respect what a Maggies centre can bring, while we respect the hospital and cancer centre as a place of technical and clinical excellence."
Attracting the architectural elite
Some of the most famous architects in the world have lent their expertise and resource to help build these centres. Indeed, at the opening of his Maggie's centre in Dundee, architect Frank Gehry not only helped raise the profile of the charity worldwide but he also helped reflect the importance of talking about cancer and seeking psychological and emotional support to deal with the disease – both for people with cancer and their family and friends.
In Glasgow, Rem Koolhaas designed a donut-style centre with, in effect, one entire corridor running through it. But the spirit of the design brief is maintained, said Lee, as people never feel that they're anywhere other than in contact with nature – that they are looking into a garden, or into a room and beyond into a garden.
Domestic in scale, Maggie's Centre Fife is the late Dame Zaha Hadid's contribution and is set on the edge of a hollow adjacent to Victoria Hospital: a distinctive protected environment and a "cliffhanger" piece of land providing a haven for cancer patients.
"These architects have given hospitals something magical," said Lee. "They've given spaces in which to provide emotional support that says it's ok to come in if you've got cancer, it's ok to say that life still matters, and it's ok to come into a place that is both inspiring and distracting."
Architectural saviours
Lee conceded that it still surprises her that people who use the centre talk about how the centre saved them, when, in fact, all of their treatment is happening in the adjacent hospital.
"There is something about the building and the support it provides that has saved them emotionally and has helped them face their diagnosis," she reflected.
With the number of people affected by cancer rising, and people's lives being prolonged for several years as a consequence of improvements in medicine, Maggies' centres are now needed more than ever.
A day at a centre is varied, with people able to come along without making an appointment. They may come for some of the scheduled activities or talk to a psychologist, while some may just drop in to make themselves a cup of tea, to enjoy the view, or to gather their thoughts after a therapy session.
The open feel to the centre has, according to Lee, not contradicted any need for privacy among patients. "There is something about the architecture and environment that communicates to people that they are valued, that they feel safe, and that they feel in control," explained Lee. "Some of the decisions we make in the healthcare environment about giving people individual and private spaces isn't necessarily the right solution. You can create that through openness but with the right design."
With Maggies starting to look further afield beyond the UK – it has already opened a centre in Tokyo and Hong Kong, with one under construction in Barcelona – the future is one of growth and continuing to fill an unmet need for that psychological and emotional support around cancer care.
It's been a long journey for Lee, a self-confessed early skeptic about the role of architecture in healthcare, but who concluded how she is now "truly moved by how the built environment can actually transform how people feel and how their life today matters – and how the value and quality of the moment is really important".